The Grande Cor-Ten Grill

 

is the new big brother of our original Glastonbury Asado Grill with all the same theatre and enjoyment that wood-fired cooking provides, only bigger.
With 75% more cooking space, the Grande provides the perfect centrepiece giving you plenty of space when cooking for large groups of family and friends.

New on 2023 models - wires for smoother height control; even lower Grill height for searing; bigger drip trays; improved V Grill stability and heavy lockable duty castor wheels for mobility.

Available in both Single and Double Grill configurations with a
Cor-Ten finish - this has a pre-rusted look, and will last for 50 years or more.

Built from Heavy-Duty Steel and 304 Stainless Steel your Grande Grill will give you and your family years of enjoyment.

Much more than a BBQ - from cooking thick-cut rib-eye steaks, fabulous chicken wings or beautiful vegetables, to long roasts, or simmering casseroles, all with the added flavour and theatre of cooking over the red-hot embers, will have your friends and family hooked from day one

Shipped 95% assembled (height axle needs adding only), so you are almost ready to go on delivery

Free Shipping with all UK orders

Weight: 200Kg

Base Footprint: 1012mm x 852mm including handle 
Leadtime: Currently around 1 - 2 weeks but if you need it earlier get in touch and will see what we can do.
What's Included?
Cover
Grande Cor-Ten Double
Full set of stainless steel V-Grill's
Fire bricks for the base
Ember rake
What is Cor-Ten?
Put simply, it is a type of steel. More specifically it is a high-strength, low-alloy structural steel created by United States Steel in 1930 to resist abrasion and corrosion and used largely in the shipping industry to make shipping containers.

Developed by mixing a particular combination of steel and alloying elements, COR-TEN® steel (also written as corten and cor-ten) is known as 'weathering steel' due to the protective layer of rust that weathers - and protects - the material. This protective rust 'patina' on the surface prevents further corrosion from penetrating deeper into the metal.

The most notable Cor-Ten structure in the UK is the Angle of the North
Dimensions
Where to See In Person
OUR WOOD-FIRED GRILLS
Based around the traditional Argentinian Asado open-fire cooking event, your Somerset Grill provides you with the perfect wood-fired cooking experience at home.Simple to light, with easy height adjust grill for complete temperature control, which solve two of the main problems with cookng over fire. It's perfect for everything from a BBQ, awesome steaks, slow roasts, cassreoles or grilled vegetables - an all round outdoor cooking solution. Choose from The Asado or it's bigger Grande cousin. And great fun too! Built in South Somerset and engineered to last.
KEY FEATURES OF OUR WOOD-FIRED GRILLS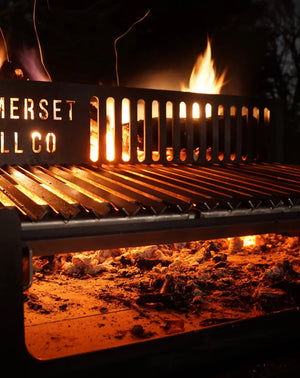 THE EMBER MAKER
The ember maker runs the full length of the grill, providing a continuous supply of red-hot embers, allowing you to cook for hours. Simply keep filling up with hardwood dry logs as required..
HEIGHT & HEAT CONTROL
HEIGHT & HEAT CONTROL The ability to raise and lower the height grill, gives you full control of the cooking temperature for fast or slower cooks.
BRING YOUR FAMILY AND FRIENDS TOGETHER
Bring your family and friends together with the unique culinary theatre of live fire cooking.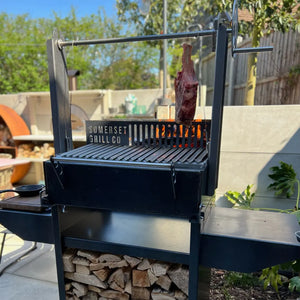 WOOD-FIRED COOKING
We love cooking over real wood fires, from the smells and flavours, to the primeval comfort the fire provides.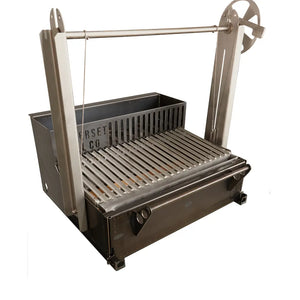 BUILT TO LAST
Hand Built at our factory in South Somerset from high-grade raw steel and 304-grade stainless steel. Your Asado or Grande Grill will give you and your family years of enjoyment.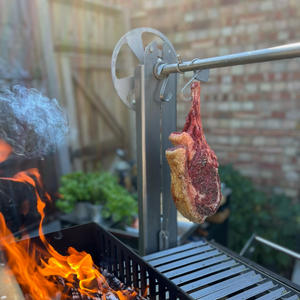 Theatre and Flavour
From grilling dry-aged, thick-cut rib-eyes to the simplest of chicken wings, or lovely veg, the added flavour and theatre of cooking over a live wood fire will have your friends and family hooked from day one.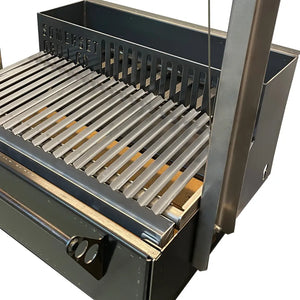 THE V-SHAPED GRILL
Stainless steel V-shaped grill reduces the risk of flare-ups, catching the juices and channeling them into a stainless drip tray for basting.
THE ASADO CLUB
Get inspiration for some new recipes to expand your repetoire - think fish, or veg, or casseroles. Plus get hints and tips on how to get the most out of your Grill. Remember, use it all year round, not just on those sunny days!
Can't wait to get my grill - I'm a 49 year old financier wanting to be Tom Kerridge!
Peter
Very pleased with the grill this grill will last a lifetime due to the build quality
Robert
The Somerset, Asado grill, really is a top qaulity Argentinian Asado, the design of the grill, firebox and grill area 'v' bars and drip tray is perfect,
Jonathan
"I'm 50 yrs old it feels like Xmas day as a kid ....!"
Greg