Grande Cor-Ten Outdoor Kitchen Bundle
The Grande Cor-Ten Outdoor Kitchen Bundle brings together our Grande Cor-Ten Grill with our new Grande Prep Tables to provide the perfect instant outdoor kitchen setup. 
What's Included:

Grande Cor-Ten Grill with Woodstore 
Our Grande  Cor-Ten Grill provides you with an easy wood-fired Argentinian cooking experience, time after time.
Simple to light and use, easy temperature control using the unique height-adjustable grill with multiple cooking zones, and most importantly great fun to cook on.  
With a whopping 0.66m x 0.32m of flexible cooking space, plus the top of the ember maker, it's bigger than many large family BBQs.
Two Grande Cor-Ten Prep Tables
Stainless steel 304 food prep work surface, 
Sturdy and moveable Gunmetal Frame with under-table storage space.
Mounted on heavy-duty lockable castor wheels, it's easy to move around or opt for levelling feet.
Each prep table has a work surface area of 94cm x 70cm.
Grande Full Accessories Bundle 
 Chapa

 

is perfect for cooking everything from vegetables to smash burgers. Fitting perfectly on one side of the our modular system on the Grande Grill , giving you full heat control and flexibility on what you can cook simultaneously.
Rotisserie: With an electric motor and a skewer made from 8mm high-grade stainless and 2 stainless forks. The skewer measures approximately 36 inches in length and is in one full section (no join in the middle). This allows for a heavier load up to a maximum balanced weight of 10kg. You will also receive a counter balance which assists in getting the skewer balanced with an even weight all around. It comes with 2 stainless steel brackets that fit onto the Grill frame all nuts and bolts included. 
Ember Grill: Fits right on top of the unique Ember maker, so you can sear steaks and vegetables directly over the flames. Perfect for when you are reverse searing a steak. Made from 3mm 304 stainless steel. 
Meat Hooks and chain: Perfect for cooking meat on the bone over live fire. From Rib Beef to Legs Lamb this is a great but simple bit of kit that you will quickly come to love. You get the chain and 4 x S hooks.
 Leadtime: 4 Weeks 
Total Length without Removable Side Tables: 2,830mm 
Total Length with Removable side tables: 3,630mm
Weight:
Grande CorTen + Woodstore: 300Kg
Pre-Tables: 100 Kg Each
What is Cor-Ten?
Put simply, it is a type of steel. More specifically it is a high-strength, low-alloy structural steel created by United States Steel in 1930 to resist abrasion and corrosion and used largely in the shipping industry to make shipping containers.

Developed by mixing a particular combination of steel and alloying elements, COR-TEN® steel (also written as corten and cor-ten) is known as 'weathering steel' due to the protective layer of rust that weathers - and protects - the material. This protective rust 'patina' on the surface prevents further corrosion from penetrating deeper into the metal.

The most notable Cor-Ten structure in the UK is the Angle of the North
OUR WOOD-FIRED GRILLS
Based around the traditional Argentinian Asado open-fire cooking event, your Somerset Grill provides you with the perfect wood-fired cooking experience at home.Simple to light, with easy height adjust grill for complete temperature control, which solve two of the main problems with cookng over fire. It's perfect for everything from a BBQ, awesome steaks, slow roasts, cassreoles or grilled vegetables - an all round outdoor cooking solution. Choose from The Asado or it's bigger Grande cousin. And great fun too! Built in South Somerset and engineered to last.
KEY FEATURES OF OUR WOOD-FIRED GRILLS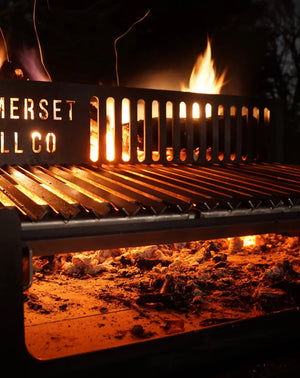 THE EMBER MAKER
The ember maker runs the full length of the grill, providing a continuous supply of red-hot embers, allowing you to cook for hours. Simply keep filling up with hardwood dry logs as required..
HEIGHT & HEAT CONTROL
HEIGHT & HEAT CONTROL The ability to raise and lower the height grill, gives you full control of the cooking temperature for fast or slower cooks.
BRING YOUR FAMILY AND FRIENDS TOGETHER
Bring your family and friends together with the unique culinary theatre of live fire cooking.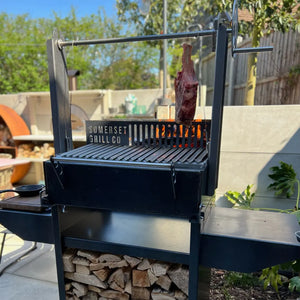 WOOD-FIRED COOKING
We love cooking over real wood fires, from the smells and flavours, to the primeval comfort the fire provides.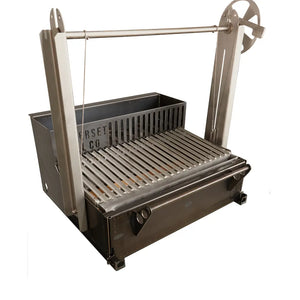 BUILT TO LAST
Hand Built at our factory in South Somerset from high-grade raw steel and 304-grade stainless steel. Your Asado or Grande Grill will give you and your family years of enjoyment.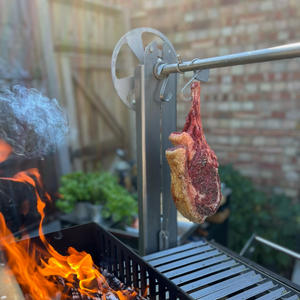 Theatre and Flavour
From grilling dry-aged, thick-cut rib-eyes to the simplest of chicken wings, or lovely veg, the added flavour and theatre of cooking over a live wood fire will have your friends and family hooked from day one.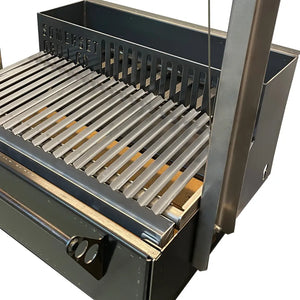 THE V-SHAPED GRILL
Stainless steel V-shaped grill reduces the risk of flare-ups, catching the juices and channeling them into a stainless drip tray for basting.
THE ASADO CLUB
Get inspiration for some new recipes to expand your repetoire - think fish, or veg, or casseroles. Plus get hints and tips on how to get the most out of your Grill. Remember, use it all year round, not just on those sunny days!
Can't wait to get my grill - I'm a 49 year old financier wanting to be Tom Kerridge!
Peter
Very pleased with the grill this grill will last a lifetime due to the build quality
Robert
The Somerset, Asado grill, really is a top qaulity Argentinian Asado, the design of the grill, firebox and grill area 'v' bars and drip tray is perfect,
Jonathan
"I'm 50 yrs old it feels like Xmas day as a kid ....!"
Greg